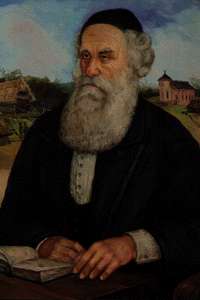 [14] Menuchah Rachel SHNEURSOHN (b. 1798, d. 1887) married Rabbi Yaacov Kuli SLONIM son of Zalman Royzes SLONIM.
[41] Yehuda Leib SLONIM (b. 1831) m. Rachil SHABTAI (d. 8 Mar. 1902) daughter of Eliezer SHABTAI.

[105] Zev Dov SLONIM
[106] Leah Rivkah SLONIM (b. 13 Apr. 1931 date must be wrong)
[107] Esther Sheina Shifra (Ethel) SLONIM
[108] Mushka Dvora SLONIM

[42] Levi Yitzchak SLONIM (b. 1832) m. Trina NACHA (b. 1748, d. 1830 these dates must be wrong) daughter of Moshe and Chana Dvoreh

Shneur Zalman SLONIM (b. 1848)
Yaacov Yosef Chaim SLONIM (b. 1860). Contact great-great-great-granddaughter Sharon SHARIR Sharon.Sharir@sunnybrook.ca
Mushka SLONIM (b. 1862)

[43] Rabbi Mordechai Dov Ber SLONIM (b. 1839 or 1840, d. 27 Dec. 1919 Hebron, Palestine). Immigrated to Hebron in 1844. He married Shimkah MESHUYOF (b. Palestine, d. 15 Dec. 1909 Palestine) daughter of Yosef Yehuda Leib MESHUYOF and Gitle

[112] Rabbi Yaacov Chaim SLONIM (b. 1860, d.1927)
[113] Shneur Zalman SLONIM (b. 6 Feb. 1862)
[114] Menachem Yosef Yehuda Leib SLONIM
[115] Eliezer Yisrael SLONIM
[116] Mushke SLONIM
[117] Eidele Yochevet SLONIM
[118] Shterna SLONIM

[44] Sterna (Shterna) Raise SLONIM married Chaim Shalom (Shlomo) KOZRINOFSKY (KZRONOVSKY) (KAZRNOVSKY).

[119] Eliezer Shimon KAZRNOVSKY (b. 1857)
[120} Avraham Zalman KAZRNOVSKY
[121] Yaacov Moshe KAZRNOVSKY ASASKOVITCH
[122] Sarah Dvora KAZRNOVSKY
[123] Rivka KOZRINOFSKY (KAZRNOVSKY) married Ephraim Yitzchok MASHIEOFF (MASCHOIEFF)/ (alternate spellings MASCHOIEFF, MOSHEOFF, MACHOYEFF, MOSHIEF, etc.) Contact: Viviane PESCOV ipescov@verizon.net (granddaughter of Meir MASCHOIEFF brother of Ephraim Yitzchok) and Debbie MOSHIEF DMOSHIEF at MONTEFIORE.org
[124] Risha KAZRNOVSKY
[125] Freda KAZRNOVSKY
Kina Leah KAZRNOVSKY

[45] Rosa Mina SLONIM m. Mordechai EFRAT

[126] Dover EFRAT (b. 1844)

[46] Sarah Freida SLONIM (d. 1 Apr. 1921 Hebron) married Binyamin RIVLIN son of Eliyahu Yosef RIVLIN.

[127] Yaacov Lev RIVLIN
[128] Eliyhu Yosef RIVLIN
---
Sources of information:
Hayom Yom has a section on the children of all the Lubavitcher Rebbes. Any Chabad House would have a copy of this book. It is available in English also
In Israel there is a book called sefer Tzezoim and this book published in Hebrew list the many thousands of descendants of the Alter Rebbe.
Another book of interest regarding the SLONIM's is called Scattered Seeds. This book was published by George SACKHEIM from Skope, Illinois. The name SLONIM was originally Greiver and it traces back to the 1500s where their ancestor gave his life to save the jewish town of Rozanes.
Information on this page from Andrew SHARPE
Gedcom file from Jules FELDMAN jfeldman@yizrael.org.il.
---
Daniel E. LOEB, eMail: publisher@pjvoice.com