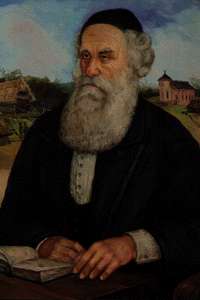 [23] Mordechai Dov TVERSKY SHNEURSOHN (d. 4 Apr. 1920) m. Batya daughter of Levi Yitzchak
[60] Moshe Chaim Yehoshua TVERSKY SHNEURSOHN m. Sheindl LIPSON (b. 1 July 1858) daughter of Shmuel LIPSON.

Bluma TVERSKY SHNEURSOHN m. TVERSKY
Dvorah Leah TVERSKY SHNEURSOHN (d. 12 Dec. 1970) m. Mordechai A"H.

[60] Moshe Chaim Yehoshua TVERSKY SHNEURSOHN remarried (24 May 1882) Menucha Naomi PERLOV (b. 24 May 1867) daughter of Yosef PERLOV

Levi Yitzchak TVERSKY SHNEURSOHN m. Zisel. Children: Menachem Mordechai SHNEURSOHN-TVERSKY and Menucha Naomi SHNEURSOHN-TVERSKY.
Chifra Freda TVERSKY SHNEURSOHN m. Chaim Yitzchak POPKAH
Sarah Treinah TVERSKY SHNEURSOHN m. Chaim Menachem KLOIZNER
Chanah TVERSKY SHNEURSOHN m. Avraham PERLOV son of Yosef PERLOV

[61] Sheina Perl SHNEURSOHN (d. 14 Dec. 1945 Tel Aviv, buried 14 Dec. 1945 Jerusalem) m. Pinchas RABINOVITCH (b. 1860 Kantikoziva, d. 24 May 1922).

Yaacov Yisrael RABINOVITCH (b. 12 Apr. 1880, d. 5 Nov. 1941) m. Reizel
Shmuel Abba RABINOVITCH (b. 1833, d. 30 Aug. 1943) m. ROKACH daughter of Naftali ROKACH
Nachum RABINOVITCH m. Esther
Gedalya Aharon RABINOVITCH m. his niece Chaya Sara RABINOVITCH.
Dvora Leah RABINOVITCH m. Moshe PERLOV (d. 11 Sep. 1942) son of Yisrael PERLOV
Miral Brachah RABINOVITCH m. Yitzchak TVERSKY son of Mordechai miSkoira TVERSKY
Sima RABINOVITCH m. Yosef RABINOVITCH
Bilah RABINOVITCH m. Yaacov Meshulam Zusia RABINOVITCH (b. 13 Sep. 1901) son of Yoshua Heshil RABINOVITCH

[62] Reva (Revalah) SHNEURSOHN m. Shmari MIVARNIOTZA

Perl MIVARNIOTZA m. Yosef YUNGERLEIB
Tzippah MIVARNIOTZA m. Yaacov KOPOLOVITCH

[63] Sterna Sheindel SHNEURSOHN m. Shlomo (Abba) Yudeh LIBERZON

Nachum LIBERZON
Yaacov Yisrael LIBERZON
Mordechai LIBERZON
Shimshon Aharon LIBERZON
Yitzchak LIBERZON m.
Chana Sarah LIBERZON

[64] Esther Feiga SHNEURSOHN m. Avraham KATZENELBOGEN

Freda Sarah KATZENELBOGEN m. SESIL
Tzvi Ari KATZENELBOGEN m. Bat Sheva
Baruch KATZENELBOGEN m. Leah VOLFIAN daughter of Mordechai Yitchak VOLFIAN

Rachel SHNEURSOHN m. Yisrael Leib SHAPIRA

[65] Treina SHNEURSOHN m. Yaacov MARGALIT

Dvorah MARGALIT
Yaacov MARGALIT
Gitel MARGALIT
Feigah Sarah MARGALIT
---
Sources of information:
Hayom Yom has a section on the children of all the Lubavitch Rebbes. Any Chabad House would have a copy of this book. It is available in English also
In Israel there is a book called sefer Tzezoim and this book published in Hebrew list the many thousands of descendants of the Alter Rebbe.
Another book of interest regarding the SLONIM's is called Scattered Seeds. This book was published by George SACKHEIM from Skope, Illinois. The name SLONIM was originally Greiver and it traces back to the 1500s where their ancestor gave his life to save the Jewish town of Rozanes.
Information on this page from Andrew SHARPE
Gedcom file from Jules FELDMAN jfeldman@yizrael.org.il.
---
Daniel E. LOEB, eMail: publisher@pjvoice.com